Web Design & IT Consulting Services
OUR WEB DESIGN

Websites are no longer a thing of the future. The future is already here and has brought expectations. Different generations approach the use of the Internet in different ways. From the way a user surfs the Internet for information, to the social media platforms they use to find the services you offer, every detail matters in the approach to your online business presence. A good website is never stagnant. A good website combined with healthy business practices, becomes a partner in your workforce. 
We use X|the Theme to build creative, modern, and fully responsive websites that work for you and your customers. Fully customizable, X Theme is both elegant swan and powerful stallion among themes, expertly supported and budget-friendly! Custom coded websites are time consuming and expensive, so why reinvent the wheel when perfect already exists?
Creating websites for any small to medium business, we only work with the top option. X Theme has earned the WordPress Web Theme of the Year award for several years in a row now, and in today's world, WordPress is the engine that powers over 25% of the web. We work with the best because, like you, we want the best for our business. More about our comprehensive worldwide web services here.
March 14, 2018
The General Data Protection Regulation (GDPR), known as Regulation (EU) 2016/679, is "a regulation by which the European Parliament, the Council of the European Union, and the European Commission intend to...
EU GDPR & Website Security
ARE YOU READY?
Data breaches at well-known entities have been in the news a lot lately, thankfully bringing focus to the upcoming EU General Data Protection Regulation, which goes into effect the last week of May 2018. It's true. The GDPR – a law that helps protect EU citizen data online – has far reaching consequences. From our own websites to the way Google and Facebook are doing business with us small business proprietors, the law affects us. It even affects folks outside of the EU who do business with customers in the EU (Brexit has no effect here.) The time has come to implement new business practices.
Are you ready to be in compliance by May 25th? Do you know what to do?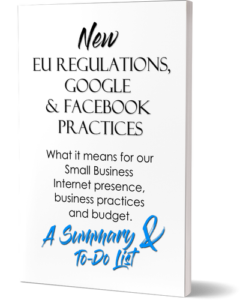 There seems to be a lot of confusion. Website owners may by now have a double opt-in installed for their newsletter, but it's a misconception that this is where responsibility ends. Data lives where you might not realize, and if you do know exactly how you store customer data, it's time to document your practices. We have penned a blog post about this. Please do read it. In addition, we have been going into our Vendee and Deux-Sevres communities to address people's questions. We do this free of charge. If you have a bar or restaurant, if your customers are small business owners (gites, camping, shops, artists etc) and if you'd like to invite them for a Questions & Answers session with us, please do not hesitate to contact us. Let's set up a date!
Everybody is welcome to download our "EU GDPR Summary and To-Do List". If you don't know what to do, we offer you a very good start with this brochure, and it's free with newsletter signup! Per the GDPR, we are letting you know that your name and email address is collected and stored via the Mailchimp service, and that you will receive an email to confirm. We do not use your info except to send an occasional newsletter. You may cancel, or request your information, at any time. Our website is fortified with a valid security certificate. And our client data (which we sometimes need to create their websites) is always destroyed upon work completion.
It's important that you take care of this. Don't wait. Sign-up and download on our News & Tips page.
If you need help to get your business and website ready to comply to the EU GDPR, please contact us to schedule a consultation. Our GDPR Compliance service includes: assessment, personalized to-do list, SSL set-up, questionnaire for current & updated business practices, and a summary for your business office to be ready with a reply in case of data breach or EU and/or customer data requests. 
Networking solutions
VENDÉE & DEUX-SÈVRES
OUR EXPERTISE
If you are in need of networking services to update Wifi, provide customers with controlled WiFi access, expand existing services, or improve what you've got in place, we can see you for a consultation. We bring 30 years of experience to the table and offer long-term solutions to complex problems. From data center architecture, systems -and software integration, to firewalls, to regulating access for clients in restaurants, B&Bs, pubs, and campgrounds, and WiFi printer access throughout your home… find out about our Networking services here. If you're in the Vendée or Deux-Sèvres areas, we can help!.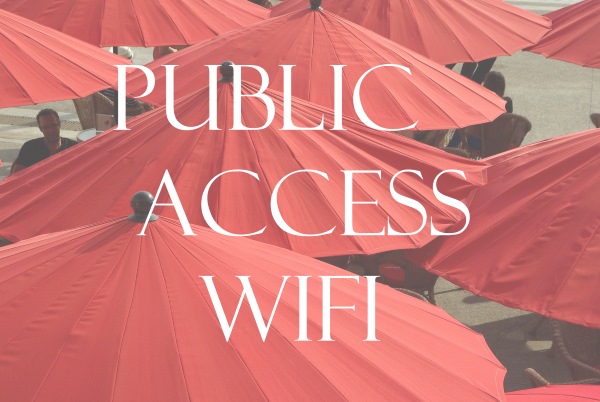 Parental Control
VENDÉE & DEUX-SÈVRES
What can you do to limit your children's online experience when life demands they have access to the online information -and communication resource? While there is no perfect protector, there are a few measures you can put into place to protect them from inappropriate material. Parental controls can consist of filtering and blocking; blocking outgoing mail, limiting time spent online, and other monitoring tools. If you're concerned about your children or grandchildren's time spent online, or how they share information, read more here about we can help or contact us for a consultation.